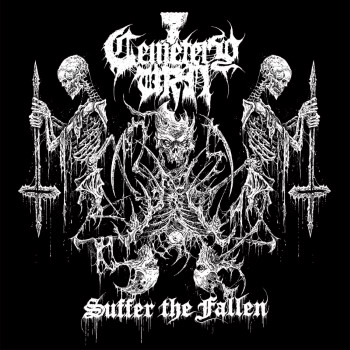 HELLS HEADBANGERS is proud to present CEMETERY URN's highly anticipated fifth album, Suffer the Fallen, on CD and vinyl LP formats.

By now, CEMETERY URN require no introduction. Pillars of Australia's now-legendary extreme metal scene, for nearly 20 years have these barbaric death metallers pursued their strict 'n' staunch vision of absolute ultraviolence - and ultraviolence with poise and daresay class. Though lineup shuffles have always been a part of the band's picture, through it all, erstwhile ABOMINATOR founder Andrew Gillon (guitar, sometimes-bass) has steered their turbulent ship and rendered four equally punishing full-length tomes: each one immediately recognizably CEMETERY URN, but each one subtly expanding their sound with no compromise and no quarter. That seven years separated their second and third albums and five years have passed since their fourth matter not; dread deeds are always bubbling within Gillon's cauldron, and he's now assembled another deadly lineup, resulting in another deadly LP.

Titled Suffer the Fallen, CEMETERY URN now see the arrival of drum god Brandon Gawith (ESKHATON, HOBBS ANGEL OF DEATH, Vahrzaw), bassist Joel Westbrook, and fellow ABOMINATOR founder Chris Volcano on vocals. Wasting no time, Suffer the Fallen kicks in and proceeds to scorch all and sundry. Once again, CEMETERY URN exude their trademark poise and, yes, CLASS; pulverizing and often operating at unsafe speeds, the quintet still put proper songwriting at the forefront, and color it with a payload of devilish details and deft shifts in tempo and texture. To the uninitiated, Suffer the Fallen will stun and likely sound overwhelming, but those who already drink deeply of the extreme arts will perhaps be surprised at how lithe CEMETERY URN's characteristic barbarism has become. Sharpening that attack to an enviable degree is the clear 'n' cutting production courtesy of Adam Calaitzis at Toyland Studio, resulting in a fortuitous first partnership. Same goes for the stark cover artwork courtesy of scene legend Mark Riddick - Suffer the Fallen indeed!

Given CEMETERY URN's deep roots in the Australian scene and their preceding history, both in ABOMINATOR and Gillon's late-days work in the influential BESTIAL WARLUST, it's with no small amount of fanfare that original vocalist Damon Bloodstorm - of course, former frontman for both BESTIAL WARLUST and ABOMINATOR - is resurrected from the grave on the vinyl-only bonus track "Mass Graves of Blood," an unreleased track from 2007 which also features original bassist Squiz and thus marks the final time that the original CEMETERY URN lineup was together. Altogether, eight tracks in 35 minutes of pure Australian Barbaric Death Metal: Suffer the Fallen and none survive!